---
Milw. Rd. 1947 Coach (Waukesha A/C) & underframe casting $35.00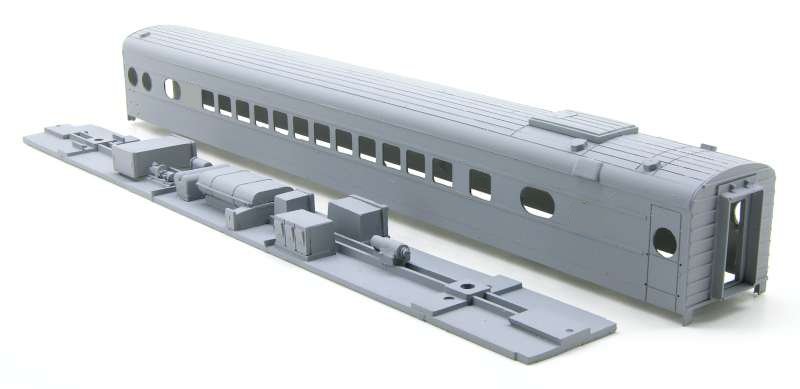 The Skytop Models casting comes molded in gray urethane resin. It has window flash that will need to be removed so expect to spend about 30 to 60 minutes to clean up the casting. Dimples are molded into the shell to help locate the grab irons. The builder will need to add trucks, diaphragms, paint, decals, window glass and an optional interior. Pictured below is the casting after flash clean-up.
Milwaukee Road 1947 shop built coach with Waukesha A/C system. Produced in cooperation with Brass Car Sides.

During 1947-48, the Milwaukee Road ordered 72 all new coaches for the Olympian, Twin Cities Hi, Midwest Hi, Chippewa and general passenger pool. Although all built in the west Milwaukee shops of the railroad, the cars were not identical. While the window arrangements were the same, the cars had two different air conditioning systems. The differences can be noticed on the roofs and also on the underbodies The Waukesha air conditioning system can be recognized by the crowded underbody containing the air conditioning unit and propane bottle carrier. In contrast, the steam ejector system had a rather plain underbody but extra hatches and vents on the roof. The cars were origiinally built with either 48 or 52 seats and numbered #515-551 but some were later re-equipped with 40 leg rest seats and numbered into the 600 series.


Nystrom trucks are available on Shapeways (Brass trucks are pictured) American Limited outside swinger hanger trucks although not prototypical are a good alternative. Z scale coupler give a nice scale appearance but standard Micro-Trains #1015 will also work.