---
Santa Fe "Economy" 64 feet Baggage Car $35.00

The Santa Fe built several batches of semi-streamlined baggage car "kits" in its Topeka shops after receiving "shells' from Pullman-Standard. The first group of 50 cars (3700-3749) were completed in 1956 and were 64 feet in length. They were followed by another 50 cars (3750-3799) of the same length in 1958. They were intended for use mostly in mail trains. Other baggage cars were also built in the 1960's but were 74 feet in length.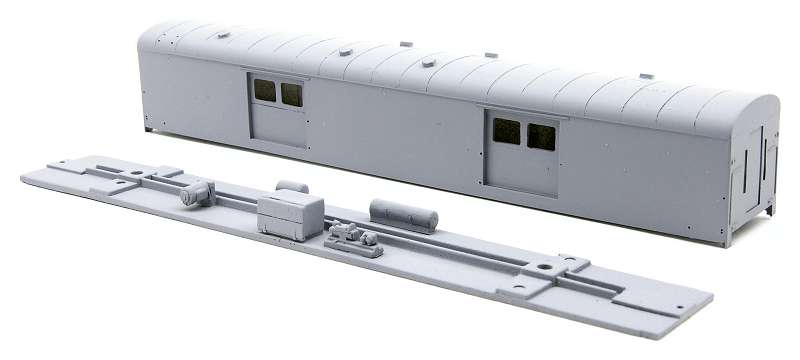 Skytop Models offers the body shell and underframe to accurately model these cars. The shell is one piece with much detail cast in place. A nice touch not often seen is the modeled roof panels. Their are also dimples cast in the shell to aid in the placement of grab irons. The underframe is also detailed and cast as a complete piece. The modeler will, of course, need to add grab irons, trucks, couplers, diaphragms, paint, decals, and window glass. BTW, the grab irons and drop steps can all be had from Gold Metal Models sets 160-56 and 160-28.

Santa Fe painted some of these cars with a dark gray body, black roof and white lettering. Microscale #60-4307 decals are specifically made for this car but I found some of the lettering a bit too small so I only used the "baggage" and "railway express agency" from this set.The "Santa Fe" lettering came from set #60-1270 Santa Fe General Head-End Passenger cars. The numbers came from a Northern Pacific passenger car set I had on hand and were about the right size.