Welcome to Skytop Models
Skytop Models will be closed for the summer of 2016. I hope to resume business sometime in the fall of 2016.
 Customer Testimonial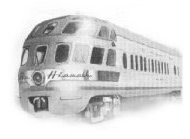 "I have wanted a custom passenger car (Sierra Hotel business/dome) for many years but I do not having the sufficient modeling skills for such a project. I have inquired for a project of this type from other custom builders in the past but found their prices (three times what Skytop charged) and timetable for completion (6 months or more) to be excessive.

Skytop's craftsmanship exceeded all my expectations, from the physical construction to the final finish the car just glows like a piece of fine jewelery.  The photos on the web site of the other projects do not do Mr. Denton's work justice.  Having the car completed in such a short time period was the icing on the cake.  Now I am searching for another project for Skytop to build and deliver."
Unique N scale Models
My custom castings are done in gray urethane plastic and are easy to drill, cut, sand and paint. They do however require some prep work before painting. This consists of cleaning up some flash with a sharp hobby knife and washing the shell to remove the mold release. I have found it best to wash the castings first in Mineral Spirits with a toothbrush, then with dish soap followed by a rinse in luke warm (NOT HOT) water. Please be advised that the urethane resin can become soft and warp if exposed to higher temperatures. Minor warpage can be dealt with by placing under hot water and gently reshaping the piece and then cooling under cold water. Castings are generally bubble free but sometimes bubbles do happen. They are easily filled with putty. However, I strive to make sure my castings are as defect free as possible and I will replace any casting if you are not totally satisfied.
Ordering is easy. Just click on the ordering tab at the top of this page and a fill in form will become available. Populate the blanks with your information and wait for my return email with instructions. I will let you know when your order is ready and when to send payment. I'm set up to accept Personal Checks, Money Orders or PayPal. I can ship to just about anywhere via USPS Priority Mail.
Ready Counter
Last Update March 28, 2016
 
Web site created August 1, 2012