---
"Rapids" series SKYTOP shell /underframe casting $45.00
Skytop Models in cooperation with Jim Stillman is pleased to announce the availability of a new product. It is a body shell and underframe casting for a Milwaukee Road 1948 "Rapids" series parlor car Skytop Lounge. The body shell was previosly available from Nscaleskytops but has been out of production for some time. The master model was loaned to Skytop Models and an appropriate underframe was constructed.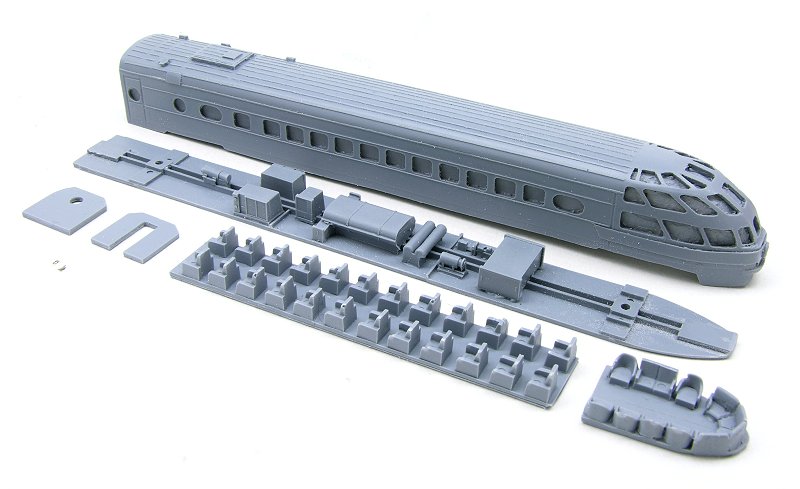 This photo shows all the castings that are included with the purchase of a "Rapids" series Skytop. All parts are cast in a light gray resin and most of the castings don't require much clean up at all. However, expect to spend about an hour cleaning up the flash from the windows on the car body. This is best done with a sharp #11 hobby blade and patience. The resin is soft enough and the work goes fairly quickly.
It is
IMPORTANT
to note that the castings should be washed in Mineral Spirits or Lacquer Thinner to remove the mold release. Failing to do so will likely cause the paint not to stick to the castings!
Completed model
Here are some photos of a finished model. The first row of solarium windows were individual panes that I cut to fit the window openings. It took some time and patience but the results are worth the effort. The remainder of the solarium windows were done with Micro-Glaze from Micro-Mark. (Kristal-Klear should also work.) The liquid window material works best on small windows, of course for a real outstanding model you could go crazy and cut individual panes for the whole solarium!