---
CB&Q Baggage-Buffet-Lounge $35.00
Body shell and underframe


The CB&Q acquired new equipment for Twin Cities Zephyr service in 1947 including two Baggage-Buffet-Lounge cars, Silver Salon and Silver Buffet. They made daily round trips between Chicago and the Twin Cities.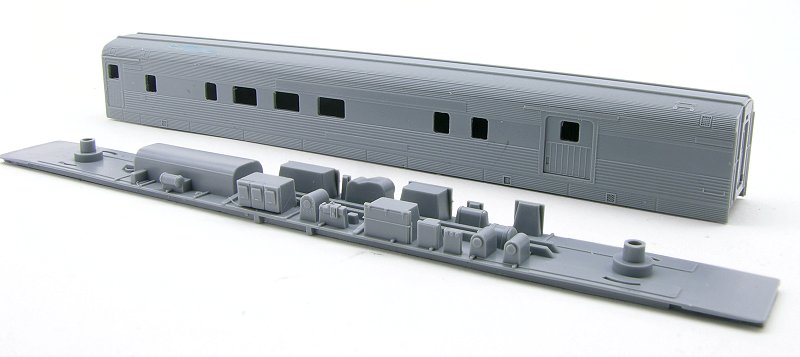 The casting needs to be washed in Mineral Spirits to remove the mold release compound. I recommend Tru-Color Silver paint. Decals are Microscale #60-1184 Chicago Burlington & Quincy Postwar Zephyr and Pool Passenger Cars (1947-1970)
.
The roof vents are Kato part #805123. I soldered the antennae together from brass wire and Gold Medal Model diesel stanchions. Another option is to use the Kato CZ diner antennae. Rather than cut up and fit Kato window glass on this car, I just glued on a strip of tinted plastic to the backside of the shell.